Lest Best is coming to Rotterdam! From September on, you'll be able to take classes in our new school in the city's center. Our Rotterdam school will offer all of our top-notch courses and will be easily accessible by public transport. Secure your spot in our upcoming classes by signing up now!
Can't wait until September to visit Rotterdam? Start learning Nederlands today by exploring the city! There's plenty to see and do in the 'Manhattan on the Maas', so grab your fiets (= 'bike'), and brush up on your Dutch!
Take a look inside of the
Kijk-Kubus
What Rotterdam is probably most famous for is its modern architectuur (= 'architecture'). And since Lest Best Rotterdam is located at Goudsesingel 2-14, right in the city center, you'll find many famous structures within short walking distance!
Some famous eye-catchers that are only ten minutes away are the Kubuswoningen (= 'Cube Houses'). The rows of cubes, which look like they're about to fall over, form a curious little village within the city. If you think their outside looks strange, you should see them from the inside! The Kijk-Kubus (= 'Show-Cube') gives you that opportunity.
There are multiple ways of crossing the river Maas, which meanders through the city. But the most impressive one must be the 800-meter long Erasmusbrug (= 'Erasmus Bridge'). Because of its remarkable shape, the bridge is often referred to as the zwaan (= 'swan').
Rotterdam also houses the Netherlands' most prominent industrial monument, the former Van Nelle Factory, a UNESCO World Heritage Site. The old tobacco factory is built in the sixties' most popular European building style, called Nieuwe Bouwen, roughly translated as 'new way of constructing'. 
Learn about
schepen
and
vogels
Rotterdam is the place to be for museum lovers! With the biggest harbor of Europe, for example, it makes sense that Rotterdam has a Maritime Museum, where you can learn about Dutch maritime history. But if you generally find museums dull, think again. The Maritime Museum has multiple old ships that are still in use to offer you an actual vaartocht (= 'boat trip') into the past.
Another maritime must-visit is the former flagship of the Holland-America Line, the ss Rotterdam. Built in 1959 and returned to its homeport in 2008, it's now a hotel, restaurant, pool, and events venue. You can visit the ship and take a tour to experience what life on board used to be like. 
Once you're done learning about schepen (= 'ships'), you could head to the Museumpark, which thanks its name to the six museums that surround it. 
The most visited one is the fine arts museum Boijmans van Beuningen, which might be a challenge to pronounce! The museum hosts European painting collections dating back to the early Middle Ages. There's also the Natural History Museum, which has a fascinating collection of vogels, zoogdieren, vissen en insecten (respectively translating into: 'birds, mammals, fish, and insects'). 
Some of the other museums to explore are the Rotterdam Museum, the Wereldmuseum (meaning 'World Museum'), and the Netherlands Photo Museum. For street art and art galleries, head to the street called Witte de Withstraat. Rotterdam's most creative street doesn't only connect the Maritime Museum with the Museumpark but offers cool pubs and coffee bars.
From the Koopgoot and Markthal to the Euromast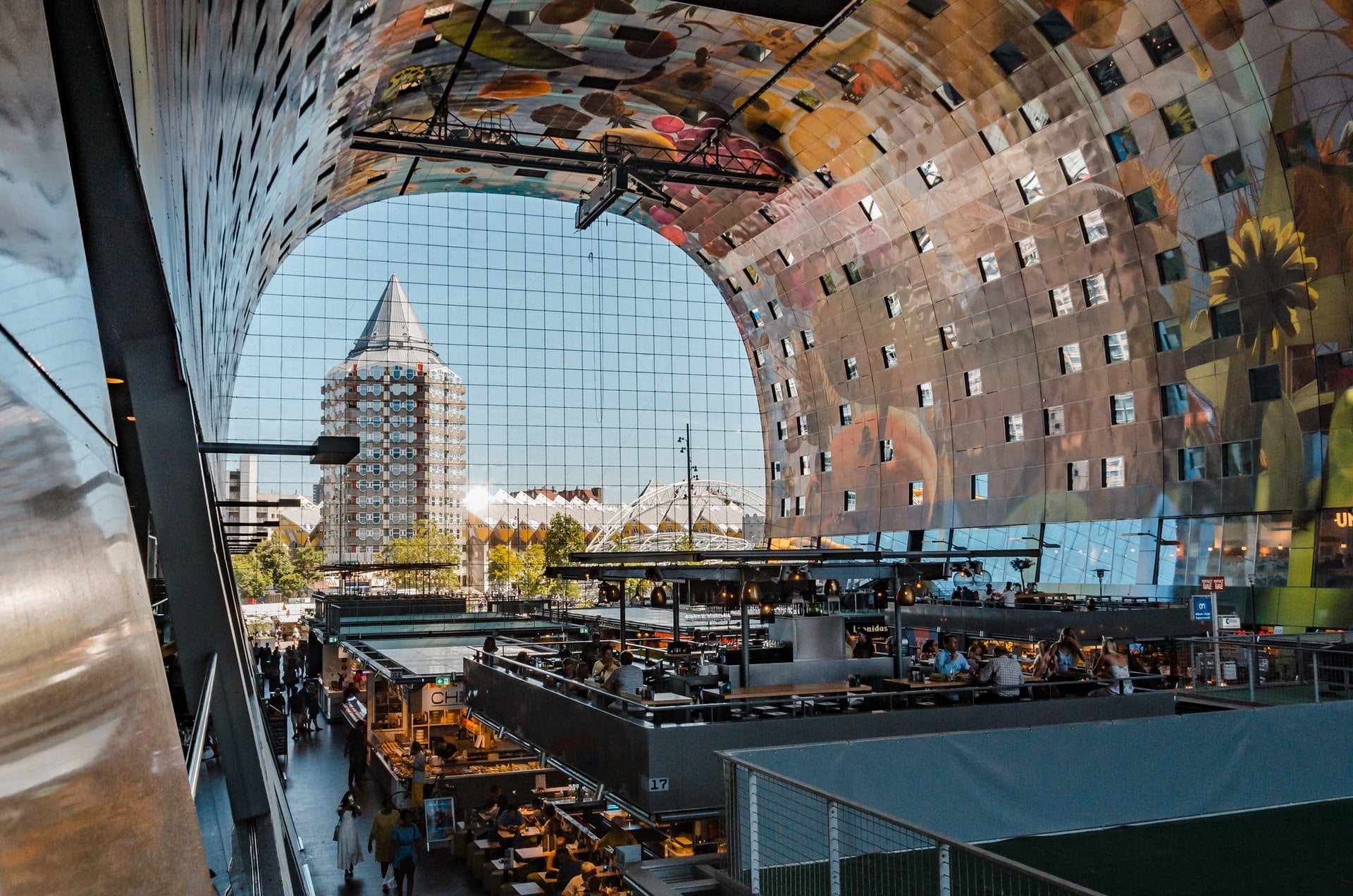 Like many other Dutch cities, Rotterdam is perfect to bike and walk around in. The city is said to be one of the greenest in the Netherlands, and there's a lot to do outside. Grab a take-away koffie (= 'coffee') from your new favorite barista and go for a stroll while passing Rotterdam's many cafés, restaurants, art galleries, and shops.
Not really into shopping? Rotterdam's Koopgoot might change that! With the Dutch name literally meaning 'shopping gutter', the Koopgoot is precisely what it says: a gutter. It used to be the exit of a metro station until shops started to open up inside of it. 
For high-end fashion stores, you should go to the street with the funny name Pannenkoekstraat = ('Pancake Street'). Speaking of pancakes, definitely visit a classic pannenkoekenhuis (= 'pancake restaurant') or order some typically Dutch poffertjes (= 'small puffy pancakes'). 
And if you're a foodie, you'll be happy to know that Rotterdam has more to offer than just Dutch cuisine. With over 170 cultures living in the city, there's a variety of restaurants. Surinamese, Indonesian, and other exotic snacks are a must-try!
To taste a bit of everything, visit Rotterdam's impressive indoor market hall, Markthal, which is only a short walk from our new school. Although you'll find well-known food halls all over Europe, the luxury apartments literally looking into the Markthal, make this building unique. The indoor food hall also hosts one of the Netherlands' biggest outdoor markets, which are usually held every dinsdag en zaterdag (= 'Tuesday and Satuday') on Binnenrotte, the square in front of the Markthal.
Once you've walked around the city, you might want to see its architectural beauty from a bit higher up. The Euromast is a great observation point to look over the city. It doesn't only house a restaurant but is also the ultimate experience for daredevils. The tower is Europe's only attraction from which you can abseil to the ground. And that from a scary height of nearly 100 meters.
Hopelijk tot snel!
Whether it's the architecture, the magnificent harbor view, or all of the international food that brings you to Rotterdam, one thing is for sure. Lest Best will be there to take care of your Dutch. Have a look at our courses and take your Nederlands to the next level.
You can find all info about our new Rotterdam school here. We hope to see you soon. Hopelijk tot snel!